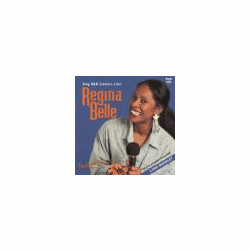 REGINA BELLE Pocket Songs PS1202
NOTE: Vocal Tracks 1 Thru 8
1. COULD IT BE I'M FALLING IN LOVE
2. LOVE T.K.O.
3. YOU MAKE ME FEEL BRAND NEW
4. THE WHOLE TOWN'S LAUGHING AT ME
5. DIDN'T I (BLOW YOUR MIND THIS TIME)
6. YOU ARE EVERYTHING
7. LET ME MAKE LOVE TO YOU
8. I'LL BE AROUND
NOTE: Background Tracks 9 Thru 16
9. COULD IT BE I'M FALLING IN LOVE
10. LOVE T.K.O.
11. YOU MAKE ME FEEL BRAND NEW
12. THE WHOLE TOWN'S LAUGHING AT ME
13. DIDN'T I (BLOW YOUR MIND THIS TIME)
14. YOU ARE EVERYTHING
15. LET ME MAKE LOVE TO YOU
16. I'LL BE AROUND